Let's go to Okashigoten!
confectionery palace
A souvenir facility where you can "experience Okinawa"!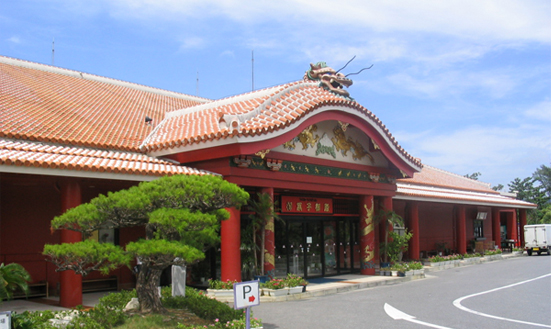 Okashi Goten, which is based on Okinawa's proud historical heritage, is Shurijo Castle that you can touch.
It is also recommended as a photo spot because the vivid vermilion color stands out against the blue sky.
Once you step inside the store, you will find yourself in a castle of sweets made with Okinawan ingredients.
Please try it yourself and choose a souvenir for your loved ones.
Touch the culture and check the taste of the souvenir yourself.
Okashi Goten is a souvenir facility where you can "experience Okinawa".
Red sweet potato tart handmade experience


A gift for someone special!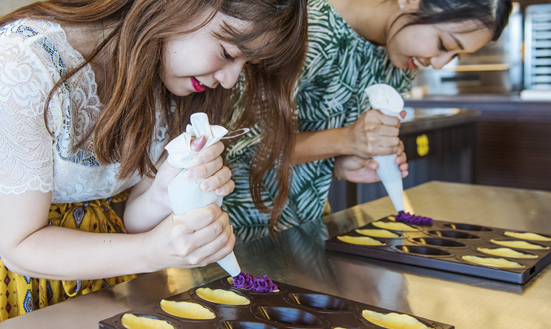 The original Beni-imo tart is a confectionery that Okashigoten prides itself on using carefully selected ingredients.
At the Onna store, you can make your own Beni-imo tart.
It's good to enjoy making tarts with friends who get along well, deepen the bond between parents and children through handmade experience, and why not give it as a gift to someone special with a message.
We put "everyone's smiles and feelings for Okinawa" into the customer's feelings for a special person, and you can make a one-of-a-kind Beni-imo tart in the world.
A spot to play!


Dinosaurs in the forest of Yanbaru! ?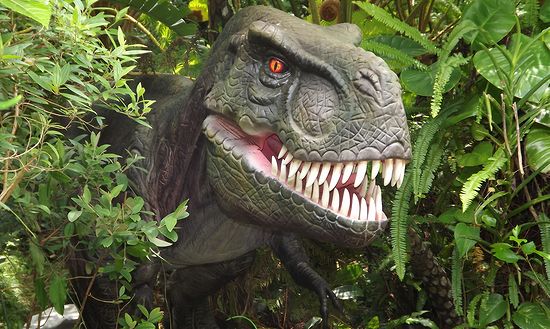 The forest of Yanbaru is home to many valuable endemic species unique to southern countries.
Plants unique to the subtropics grow thick, and you can meet flowers and creatures that you have never seen before.
In the forest where time flows slowly, a giant dinosaur suddenly appears!
While feeling nature, you can enjoy the feeling of slipping back in time to the age of the dinosaurs.
while choosing souvenirs


Feel free to visit the factory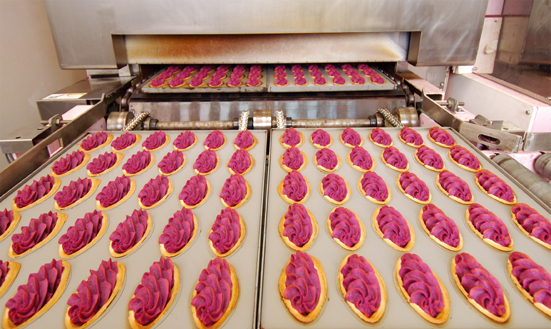 With a passion for making sweets that deliver freshly made deliciousness, the large Okashigoten stores (Yomitan main store, Onna store, Kokusai-dori Matsuo store) have a sweets manufacturing line (beni-imo tart). It has been.
Since it is located inside the store, you can drop by casually and observe the sweets being made one after another through the glass.
The production line is like a mechanical device.
Curiosity is stimulated from adults to children.
Please have a look.
of Okashigoten


Have a blissful time at the restaurant!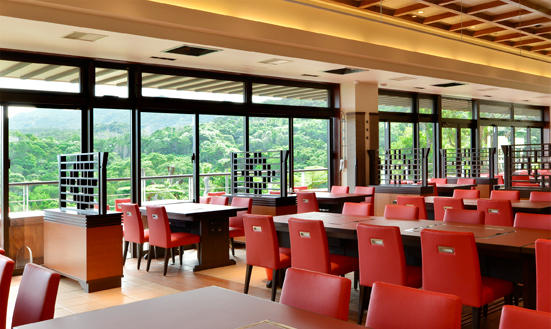 You can enjoy dining in a variety of atmospheres, such as the Yomitan main store restaurant that reminds you of an old private house in Okinawa, the Onna store restaurant with an emerald green ocean, and the Nago store restaurant that is healed by subtropical plants.
You can enjoy the local cuisine of Okinawa to your heart's content, from the classic "Okinawa soba" to the home-style taste of Okinawa "pork eggs" and course dishes using Agu pork.
Take Okinawa-like items as souvenirs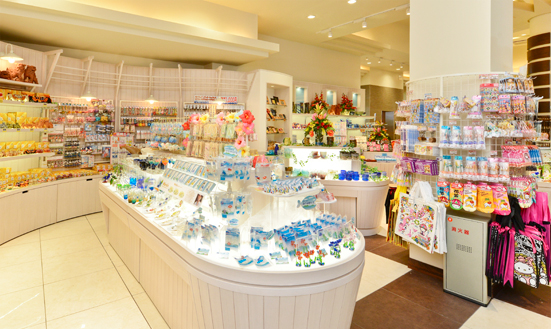 In addition to specialty sweets, the shop offers a wide range of products such as Okinawa soba, Okinawan soba noodles, shisa and Ryukyu glass that are carefully handcrafted one by one.
We also have regional limited goods and Awamori from each sake brewery in Okinawa, so please use it when you are looking for something unique to Okinawa.
(* Small stores only sell sweets.)
List of stores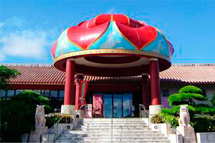 ■ Yomitan Main Store
Address: 657-1 Uza, Yomitan Village
TEL: 098-958-7333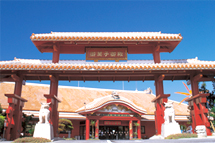 ■ Onna store
Address: 100 Seragaki, Onna Village
TEL: 098-982-3388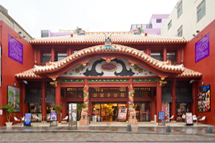 ■ International street Matsuo store
Address: 1-2-5 Matsuo, Naha City
TEL: 098-862-0334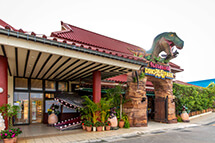 ■ Nago store
Address: 1024-1 Nakayama, Nago City
TEL: 0980-54-8515

■ Kokusaidori Kumoji store
Address: 3-5-1 Kumoji, Naha City
TEL: 098-951-2251

■ Kokusai Dori Makishi store
Address: 3-1-8 Makishi, Naha City
TEL: 098-862-9888

■ Naha Airport store
Address: 150 Kagamizu, Naha City
TEL: 098-859-7234

■ Ishigaki store
Address: Ishigaki City Aza Okawa 10-1 1F
TEL: 0980-88-0510